Hello
A Vision to Remember fans
, I am thrilled to be blog swapping with Bobbi. I have been a follower of hers for some time. I thoroughly enjoy her posts, creativity, and talent. Just look at how cute her car seat covers are, LOVE IT. Thanks Bobbi, I am thrilled to be here.
So a little about me~ My Name is Jennie Larsen I have been married for 10 years to Kevin my best friend. I, LIKE most of you, LOVE TO CRAFT. I am a mother of 3 children~ 8, 4, and 18 mos. I love being a mom, and when the diapers are changed, the dish washer is full ,the laundry is still piled high on the couch, and the kids are all snug in their beds.. I LOVE TO get my Craft on. Crafting is a huge outlet. I remember as a little girl all the crafting painting, gluing, wreath making, and sewing my mother did as I grew up. It must run in the fam.
Today I will show you just some of the things I have made. PLEASE I would be so flattered if you came by my blog
CraftOManiac.blogspot.com
and checked more out, or become a follower ;). Why CraftOManiac?~ WELL' Because I am a MANIAC FOR CRAFTS HA!
I will show you A TASTE OF SOME OF THE CRAFTS I HAVE MADE~

Here is a Burlap wreath I made. Crafts are great for so many reasons. One thing I love making is a craft decor item I can use in my home.
Here is a cute Primary Craft my sister and I made from recycled baby food jars, as well as cutting flowers out using my cricut.
Here are some mod podged napkin covered Styrofoam balls I made. I love Damask and I put these in a cute apothecary jar, as well as a large basket on my coffee table.
Here is a wood mod podged Napkin Letter "E" for Easter or Eggs for the Easter Holiday to set next to the rest of my Easter stuff.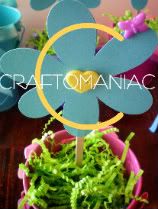 Thanks so much for looking, Again I would love to have you come by. THANKS AGAIN Bobbi!
Thanks so much Jennie for swapping with me! And make sure to head on over and check her blog out.