It is the countdown to the 30 day food challenge...only 2 days left (well technically 1 1/2)
I am super excited for this. I have received many really great recipe submissions. ( I am still looking for a few more)
I am still working on my menu for the entire month. That will come either Sunday or Monday.
So here is how it is going to work:
Each day you will see up to 3 recipes
a dinner or entree recipe

an appetizer, dessert, or drink (I was not going to do drink recipes but I received a few and decided to share them with you all
a recipe from yours truly. This recipe will most likely coincide with what I am making that day.

I want to thank
Beverly
for making the awesome button for the 30 day food challenge. She gave me 2 really great buttons to choose from. Plus she is such a sweetheart. So make sure that you get the button and share it!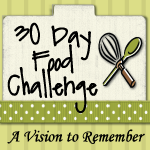 So make sure to come back each day to see what recipes have been posted. I hope you all have a great day!