EDIT: I PUT THE WRONG LING BELOW NOW IT IS FIXED. THANKS FOR LETTING ME KNOW!

holy cow! Has it really been 30 weeks ago that I started this little link party?!?

I really can't believe it. Throughout the last 30 weeks there have been some really amazing links shared on my blog and I want to thank you all for sharing! Especially to those that share regularly.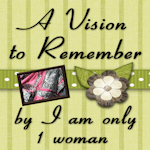 As a special thanks to those that link up this week I am going to be doing a giveaway from my ETSY shop.

I will be giving away 3 $10.00 gift certificates to my shop.

Ways to enter:

Visit A Vision to Remember and come back and tell me what you would want with your gift

Follow my blog
tweet, facebook, or blog about this giveaway (make sure to leave a link to your promotion)
This giveaway will be open until the 31st of August.

Redheads craft more fun
has this fun soap lollipop idea
I never thought about making a jar into a soap dispenser but
blissfully content
did. Such a great and darling idea!
Oopsey Daisy
has this really fun paper rose wreath. I can't imagine how long it must have taken to make all those paper roses
Also remember that the 30 day food challenge is still going on. Make sure to check back everyday to see what new recipes are being posted. Oh and I need 4 more sides/dessert dishes to finish this out...so if you have been procrastinating getting that recipe over to me you still have time.