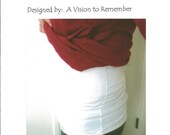 belly band pattern, Maternity, bella, pregnancy, sewing, plus size clothing, postpartum, baby, women, tank, lace, mom, tummy, sleeve, wrap, top, nursing, shirt,
This great belly band allows you to wear your normal clothes longer while you are pregnant. They also are great for the transition from having the baby to refitting into your normal clothes.
This is a hard copy that is mailed to...
Click Here to Visit My Etsy Shop!